With lessons at El Dorado Hills Music, you can develop your skills with an instrument you already know, or you can add something new to your repertoire. Please contact our expert instructors directly for rates and to schedule your lessons. Teachers keep and manage their own schedules.
Cameron Carbrey
Guitar, Bass, Drums, Piano, Clarinet, Saxophone, and Theory Instruction
With over 25 years of teaching, composing, and world touring experience in many types of music, including marching bands, classical, jazz, blues, rock, hip-hop, metal genres, country, and orchestral scoring, Cameron can teach you a variety of musical skills both in the studio and on the stage.
He started playing music in 1982 and would later begin teaching at this location in 1997. Students have gone on to obtain music degrees and establish careers in the music field as composers, performers, A&R, and technical engineering.
Cameron has played with and/or opened for a large variety of musical acts and/or members of Blue Oyster Cult, Buckcherry, War, Queensryche, Doobie Brothers, Charlie Musselwhite, Moonshine Bandits, Texas Hippie Coalition, Jefferson Starship, Warrant, Pat Travers, Dio, Dokken, Quiet Riot, Tesla, Guitar Shorty, Guitar Mac, Deacon Jones, Black Sabbath, The Doors, and many more, as well as having composed and placed music in several independent films, plays and professional web projects.
He strives to expand your musical education and innovation to inspire you intellectually and creatively. Cameron's focus is on composition and becoming fluent in the language of music on any instrument.
In 2018, Cameron and his wife became the new owners of El Dorado Hills Music. Lesson times are very limited. Please check back periodically if there is not a lesson time available when you initially reach out, as available times can come and go quickly.
Lessons: Monday - Friday
Email:
lessonswithcameron@gmail.com


Wendy Payton

Piano Instruction
Wendy can help you with her over 25 years of teaching experience with students of all ages and levels.
She's learned from the best, including John Trenalone (Placerville), Dilworth Simmons (Sacramento), and Frank Wiens (U of the Pacific).
She's also studied music at the graduate level in Illinois and Iowa, and she's taught at the college level in the Southeast.
With Wendy as your piano teacher, you can focus narrowly or pursue musical independence across a variety of styles, approaches, and skills.
Lessons: Wednesday and Thursday
Phone: 530-672-9244
Rikki Pratt
Voice Instruction


Rikki attended Concordia University in Irvine, California for a Bachelor of Arts in music, with an emphasis in vocal performance. She has directed several choirs, vocal ensembles, and musical theatre scenes. Rikki has sung with several local vocal ensembles and theater companies, including the Sacramento Master Singers, the award-winning Sweet Adeline's barbershop quartet Heavenly, El Dorado Musical Theatre, and Light Opera Theatre Sacramento. Not only has Rikki performed across the US, but also in Australia and Europe, specifically in such places as St. Peter's Basilica, the Berliner Dom, and the Salzburg Residenz Palace.
Rikki is eager to share her love of singing with her students. Rikki's primary goal with her students is building healthy technique that can be applied to all styles of singing. Along with healthy technique, she teaches sight-singing, harmony singing, and performance presence. She teaches all levels of singers.

Lessons: Monday
Email: rikki.m.pratt@gmail.com
Phone: (530) 306-7940


Jim Murry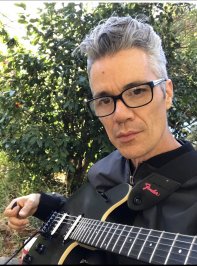 Guitar, Bass, and Ukulele Instruction
Jim Murry's father, Phillip, was a high school music teacher and an accomplished jazz guitarist. In his late teens, Jim got his teaching career started by teaching in his father's home studio. He learned useful techniques and gained experience by working alongside his father.
After graduation from high school, Jim took up study at American River College in the field of music theory and jazz. Jim performed in the ARC jazz band and attended other classes at ARC. Jim also studied commercial music and performance at Sacramento City College.
In the '90s, Jim toured the west coast extensively with several avant-garde jazz groups. The groups opened for jazz great John Scofield and avant-garde legend Tom Fahey. Jim is passionate about sharing his knowledge of Gypsy Jazz, Nashville Style guitar, folk, blues, rock, and '80s shred guitar.
For the past 22 years, Jim has been extremely busy in El Dorado County teaching an average of 40 students per week. Jim teaches multiple styles for guitar and electric bass.
Jim takes pride in encouraging his students to reach their goals. Whether they aspire to work and read through a challenging jazz chart or just wants to strum around the campfire, Jim can help you achieve your goals.
Lessons: Wednesdays
Phone/Text: 916-595-0489
Erik brings over 30 years of experience in marching bands and other styles to our store, including jazz, symphonic, chamber, and stage music.
He's an original member of Hip Service, an R&B funk band from Sacramento, and you may have heard him play locally with the Ron Cunha All-Star Big Band or the Placer Brass Quintet.
When you work with Eric, he'll share what he's learned with you and help you apply those skills in music, academics, sports, and more.
Justin has been playing guitar and bass for 13 years and has three years of teaching under his belt.
He is the vocalist and bassist for his band "The Seafloor Cinema" and specializes in writing and producing.
Justin is currently pursuing a degree in Vocal Performance at ARC, as well as composition. As a full-time performing musician, Justin hopes to spread his knowledge of music and help inspire students to love music the same way he does.